Pierick Houdy
---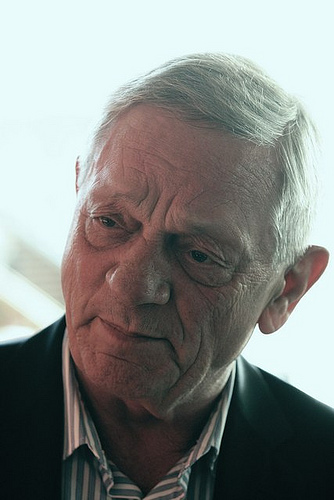 PIERRICK HOUDY
Born on January 18, 1929, in Rennes, Pierick Houdy began composing in 1935. His first works (ed. Henry Lemoine) were premiered in 1937 at the Opera de Rennes.
In 1939, the advent of World War II forced the Orchestre National de la Radio to take refuge in Rennes. The sound engineer, who was also professor at the Paris Conservatory, accepted young Houdy into his class. At the Conservatory, he studied with Maurice Duruflé, Nadia Boulanger, Olivier Messiaen, and Darius Milhaud, and earned a Premier Prix in composition. A second Prix de Rome and the Grand Prix de la Ville de Paris came to crown his young career as a composer.
In 1954, Houdy married Ghislaine de Winter, a harp student of Pierre Jamet at the Paris Conservatory (Premier Prix in 1955). His Sonate for harp, which he wrote for his new wife, was met with much admiration, and has since become a standard piece in the harp repertoire. In the same year, he participated in the premier of a ballet with Serge Lifar and Yvette Chauviré. In 1955, Houdy became the director of the Conservatory of Tours as well as organist at the Basilique Saint Martin, a post that he was forced to leave in 1960 under pressure from the city's mayor.
Upon Houdy's return to Paris, Jean Cocteau commissioned him to write the music for his play L'impromptu du Palais Royal. Another playwright, André Roussin, also asks him to create music for his play La petite hutte, which had been commissioned by the state.
Houdy became music director at the Eglise Saint Séverin in 1965, and a year later was named choir director of the Maîtrise d'Enfants (Children's Choir) of Radio France. In 1966, he received a state commission to celebrate the 1000th anniversary of the Mont Saint Michel, for which he wrote the Cantate à Saint Michel.
In 1970, Houdy was invited to be professor of composition at Laval University in Quebec City, Canada, where he was also organist of the university parish. Later, he was invited to teach at the Conservatory of Music and the Conservatory of Dramatic Arts in Quebec City. At the same time, he continued to compose and to participate in the theatrical world by writing music for plays in Quebec City, Montreal, and Toronto.
In 1972, Radio Canada commissioned a mass inspired by the musical traditions of Quebec. His Messe Québecoise, though having received a reserved welcome by the Quebec City intelligentsia, was awarded the Grand Prix du Disque in 1978.
With his wife, Houdy has been invited to many musical festivals and events where his pieces have been played on the five continents.
In 1992, the couple returned to France, and in 1997 he wrote and dedicated his Concerto Français for harp and orchestra to Isabelle Perrin. It was premiered in 1998 in Brest, with the Orchestre de Bretagne, and had its American première in June 1998 in Baton Rouge.
"Though there isn't a language more universal than music, it remains the most regional one on our planet. As French music had been rather mistreated for decades, I decided to write a French Concerto for harp and orchestra, in the French spirit. That is to say, in the spirit of the composers who preceded me rather than those who I frequent. Writing without "principals" or systems, no dodeca-this or polytonali-that (it ages so poorly!). A simple orchestra: A flute, an oboe, a clarinet in A, a bassoon and the string quintet. Being not very interested in analysis, I prefer to simply write my music rather than explain it. In the same way, I prefer the imagination of performers rather than the zeal of technicians. In a word, I prefer musicians. This is why I chose to write this concerto for Isabelle Perrin, principal harpist of the Orchestre Natinoal de France" Pierick Houdy