Serge Natra
---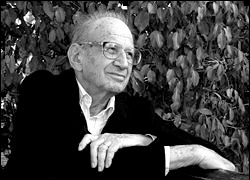 Natra was born in Bucharest, and he began studying music with Leon Klepper at the Jewish conservatory there in 1942. He began composing at a young age, and his work in 1944 for orchestras, called "March and Chorale", earned him the status of a modernist in Romania. The Israel Philharmonic Orchestra performed this work in 1947 under the direction of Edward Lindenberg. For this work and for the "Divertimento in classic style" from 1943, he received the Enescu prize.
In 1961, Natra and his wife, Sonia, a sculptor, emigrated to Israel. A year later, conducted by Sergiu Comissiona, the Israel Philharmonic performed the "Symphony for strings", which was the last piece he had written in Romania; and the "Music for violin and harp", performed by the violinist Miriam Fried and the French harpist Françoise Netter.
Besides composing music, professor Natra taught music. In 1975, Natra was a guest composer at Tel-Aviv University, where he taught music of the 20th century, composition, and analysis of forms. He was a professor at the Tel-Aviv Music Academy until 1985. Among his hundreds of students were the conductor Lior Shambadal, composers Erel Paz, Ella Milch-Sheriff, Deborah Rothstein Schramm, Dror Elimelech, violinist Yehonatan Berick, pianists Sally Pinkas, Eugene Alcalay, Sivan Silver and Gil Garburg, Dr. Eran Lupu and many others.