French Russian Music
---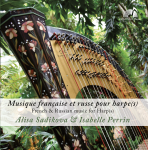 As artistic director of the World Harp Congress (WHC), I met Alisa for the first time when I invited her to play as a soloist at the 12th Congress held in Sydney, Australia, in July 2014. Alisa was then 11 years old, and the minute I heard her I was totally seduced by her incredible talent and personality. We kept in touch and in the months and years that followed, Alisa took part in a few of my masterclasses and came to stay at my house several times for a few days of intense work. I had never before heard a child (because at first she was still a child) with such musical understanding and maturity.
About a year ago, by great coincidence, Flavien Pierson sent me a YouTube link with Alisa that he had just discovered, asking me if I knew her because he would like to record a CD with her ! And this is how the idea of this album came about, which I am very happy to present here.

French and Russian music have always had a privileged relationship, from the Empress Catherine II's Francophilia to young Debussy's admiration of Mussorgsky, from Glinka and Tchaikovsky's travels to France to the long abode of Boieldieu in Saint-Petersburg.
This musical complicity finds a harmonious echo in the Franco-Russian program of this album dedicated to the harp. The pieces chosen were either directly written for this instrument, or are opera aria transcriptions and arrangements, following the fashion of previous decades. During the times of Mozart, Gounod, Tchaikovsky and many others, popular tunes were reworked and played by diverse musical ensembles – an early prequel to today's "mixtape". This tradition thrived from the earliest Operas to the XXth century (and even into the XXIst). The concluding piece of this CD, the Fantaisie by Ekaterina Walter Khüne, testifies to this.
Bochsa: Duo on the air « Soyez sensibles » from the opera Mystères d'Isis

Glinka: La séparation Nocturne in F min. (also called « The Farewell »)

Glinka: Variations on a Theme by Mozart

Debussy: En bateau, version for piano 4 hands played with 2 harps

Renié: Danse des lutins (The Elves' Dance)

Tournier: Sonatine

Balakirev / Shostakovich: Polka for 2 harps

Prokofiev: Prelude (also called « Harp »)

Ekaterina Walter Khüne Fantasy on Eugene Onegin's arias